Bajre ki Kheer | Pearl Millet Pudding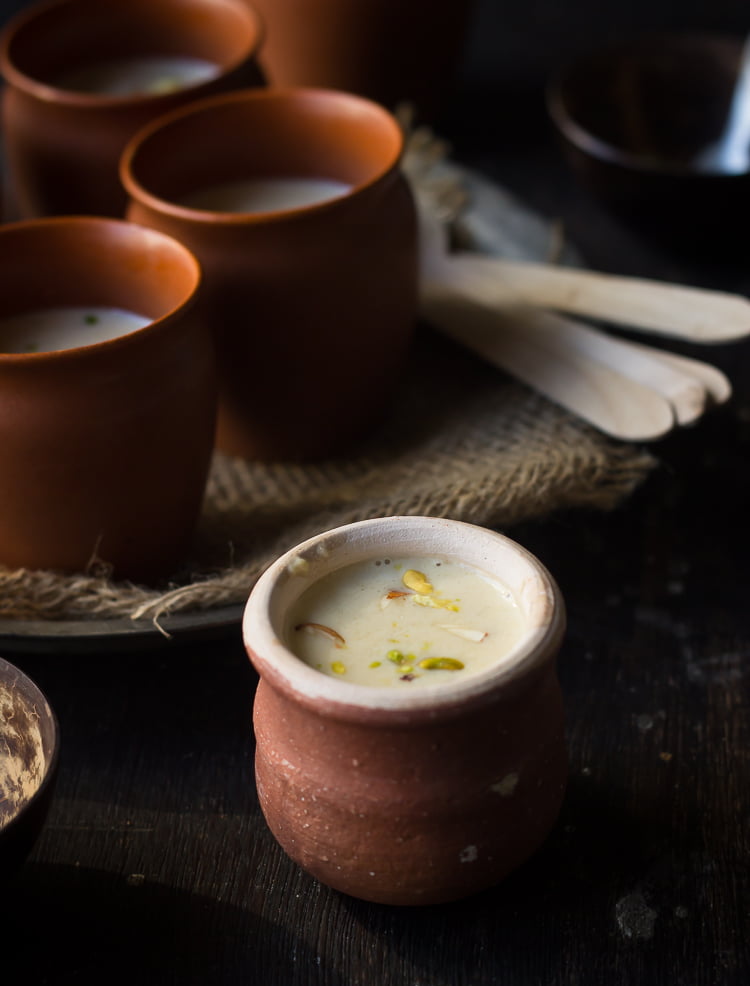 Ingredients
| | |
| --- | --- |
| 1 | litre of full cream milk (doodh) |
| ¼ | cup of pearl millet (bajra) |
| 150 | grams of jaggery (gur), crumbled |
| 8-10 | almonds (badam), chopped |
| 8-10 | cashews (kaju), chopped |
| 2 | tablespoons of raisins (kishmish), cleaned |
| 1 | teaspoon of cardamom (choti elaichi) powder |
Preparation
| | |
| --- | --- |
| 1. | Soak pearl millet or bajra in a wet cloth for 15-20 minutes. Moisture will loosen the husk of millet, making it easy to remove. Give soaked millet a very quick pulse in the mixer, we don't want powder, but just enough to separate the loosened husk. |
| 2. | Remove the pulsed millet into a big platter and blow on them to remove the husk. You may want to be in a area which can be cleaned afterwards or in a garden to absorb all the husk flying. You can do the same step in a mortar and pestle if you have one instead of a mixer. Imagine the same process we do for peanuts, where we roast them and the husk can be easily removed by blowing gently on it. |
| 3. | Pressure cook the cleaned millet with 1 cup of water for 2-3 whistles. Allow the pressure to release. I usually let it release naturally. Check for doneness by pressing the bajra grains between the thumb and finger. It should press but stay firm. Imagine how dalia (broken wheat) appears after pressure cooking. |
| 4. | In a thick bottom pan or wok, add boiled millet and milk. Allow it to cook on slow flame, stirring often. Stirring is important so that it doesn't get stuck to the base of the pan. It will take about 40-45 minutes for bajra to cook as well as milk to reduce. |
| 5. | In a small pan, add ½ cup water and crumbled jaggery. Allow the jaggery to cook and melt completely. Remove from flame and set aside. |
| 6. | When bajra is tender and blended well with milk, add cashews, almonds and raisins in it. Mix well. Add cardamom powder and turn off the flame. Allow the kheer to cool completely. |
| 7. | When the kheer is completely cooled down, strain jaggery syrup and mix well in the kheer. Bajre ki Kheer is ready. Serve chilled and garnish with more chopped almonds and cashews. |
---
Notes
My mother's recipe from the repertoire of family recipe.
De-husking the bajra is also an important step. It sounds confusing but definitely not when you do it. Imagine the same process we do for peanuts, where we roast them and the husk can be easily removed by blowing gently on it. You may be getting de-husked bajra in your grocery shop, so do check it if this doesn't work for you.
Stirring is important so that kheer doesn't get stuck to the base of the pan. If the kheer gets stuck to the base of the pan while cooking, first taste the milk for any burnt flavour. If there is no burnt flavour, you can immediately transfer the uncooked kheer in another wok or pan for further cooking and thickening.
Add jaggery syrup in kheer only when it has completely cooled down, else the milk can coagulate. After adding jaggery syrup, the kheer needs to be consumed chilled and not reheated. Or you can gently warm it by keeping the bowl in a hot water bath (keep the kheer bowl in a bigger bowl of hot water).
You can use palm or normal jaggery as per your preference.
Bajra is a winter special millet, alternatively ragi can be used in summers.
I would not recommend replacing jaggery (gur) with sugar as the flavour of this kheer is specially due to combination of bajra and gur. Sugar will not give the authentic flavour.
Cooking in the bajra with milk on slow flame is the true reason for the thick consistency and  delectable rich flavour of the kheer. If you try to hasten the process by cooking on full flame, it will be compromise on flavour.