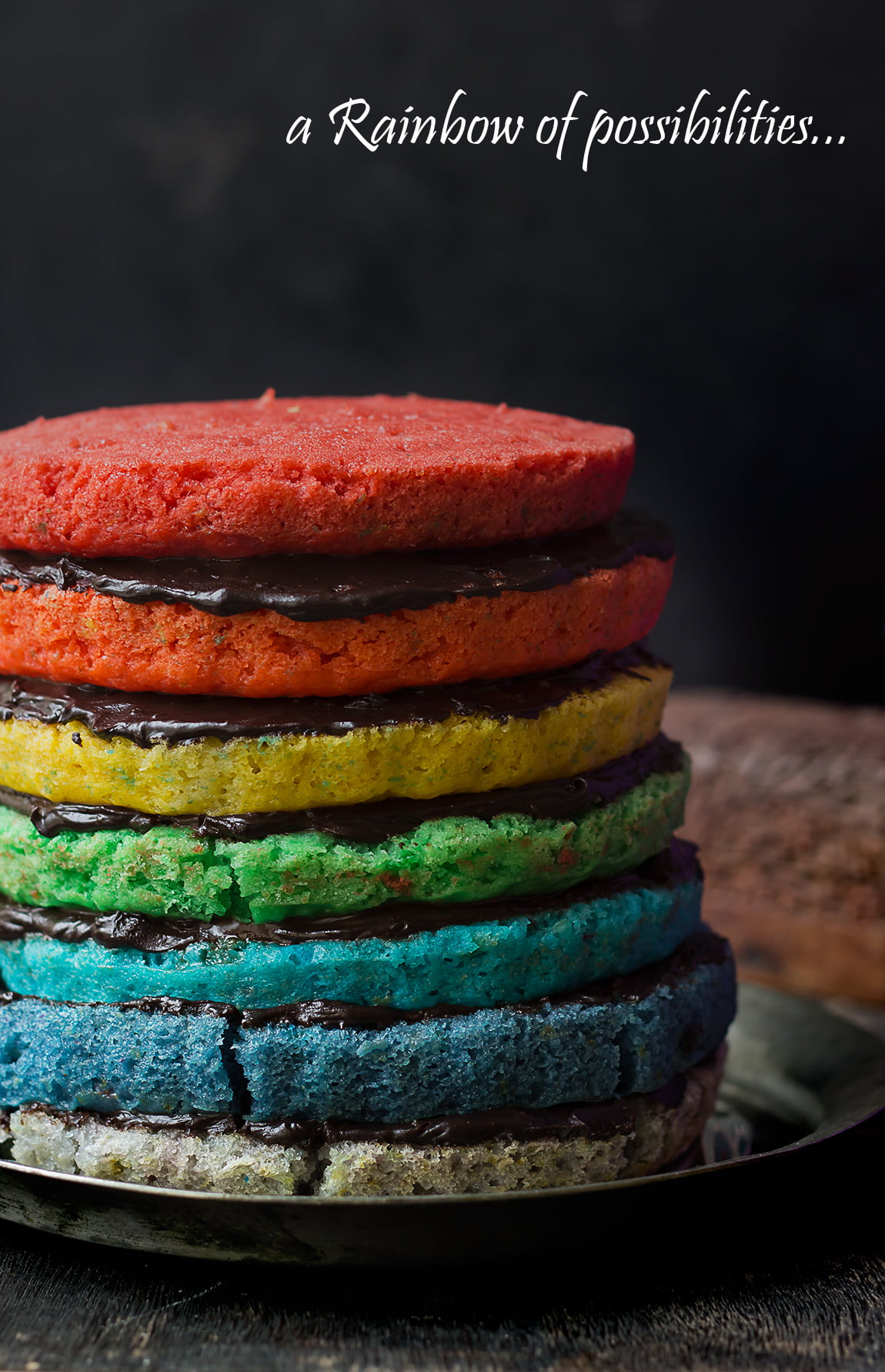 Ingredients
| | |
| --- | --- |
| ½ | cup of all purpose flour |
| ¼ | cup of sugar |
| ¼ | teaspoon of baking powder |
| ⅛ | teaspoon of baking soda |
| ⅛ | cup of unsweetened apple sauce |
| ¼ | cup of curd or buttermilk |
| 1 | tablespoon of oil |
| 1 | teaspoon of apple cider vinegar |
| ½ | teaspoon of vanilla extract |
| | a pinch of salt |
| | 1-2 drops of colour of your choice |
Preparation
| | |
| --- | --- |
| 1. | Pre-heat oven to 160°C. Grease and line a 6 inch round pan. |
| 2. | In a large bowl, combine together flour, cocoa powder, sugar, baking powder, salt and baking soda. In a separate small bowl, mix curd or buttermilk, oil, food colour of your choice, vinegar, vanilla extract and apple sauce. |
| 3. | Stir the wet ingredients into the dry ingredients bowl until just mixed. I added another teaspoon of curd to adjust the consistency. Pour the batter into prepared pan. Bake for 20-25 minutes or till the tooth pick inserted near the centre comes out clean. Cool the cake completely in the pan. Repeat for remaining 6 layers in colours of rainbow. |
| 4. | Prepare ½ kg ganache. Place the violet layer at the bottom, soak in sugar syrup and spread ganache. Repeat. After stacking 3 layers, insert 3-4 straws, or wooden dowels inside the layers to support the other 4 layers. Once all the 7 layers are stacked, insert another set of straws to further stabilize the cake. When making tall or tiered cakes, straws or dowels are must. Crumb coat with whipped cream. For fresh flowers, thoroughly clean and dry them. Stick the bunch together using an elastic band. Now place them on a small portion of butter paper cut in the size of flowers so that it's not visible. If you are planning to insert the stem inside the cake, it is best to insert using straws or cling wrap them. Use the remaining ganache to drip on top. Or Assemble and decorate as per your choice. |
---
Notes
This recipe makes 1 layer. Repeat this process to get as many layers you want. For red layer, I added 1 teaspoon of cocoa powder for a nice red. I recommend doing it to get deeper shade.
I forgot to use straws/ dowels after the first 3 layers, so the bottom 2 layers started breaking as soon as I piled all layers. You do not forget guys!!
Check tips on using fresh flowers for cake here.