Homemade Chocolate Syrup is a boon! Keep this ready to use syrup at home to drizzle on your ice-creams, add to your shakes or coffee or even to desserts.
Lot of times when I need to use, I shy away from using chocolate sauce or syrup simply because I rarely stock it. When everything is made from scratch using a store-bought seems so wrong. I know I sound like a snob!
But I am not. Swear. ;)
So when I came across this simple recipe for making chocolate syrup with cocoa powder, I couldn't resist and now I have a bottle of ready-to-use chocolate syrup in my refrigerator.
Though I doubt by the time I will come back from holidays, it will still be available to use. Knowing V, it will get over as soon as I leave the house.
This surely is going to add to the staple ingredients in my home. Though next time on, I would be reducing the sugar to about 1½ cup, as we prefer mild sweet but for a more sweet tooth, go with original quantity.
Whenever the fancy strikes, pour the syrup over chocolate milk, coffee, ice cream, brownie, cookies or just put the bottle to your mouth. :D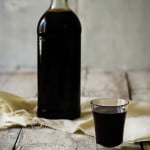 Print
Chocolate Syrup at Home | How To
An absolute must have in your pantry for jazzing up your dessert or satisfy late night craving.
Instructions
Mix cocoa powder and water in a thick bottom saucepan.

Heat and keep stirring till cocoa is completely dissolved. Add sugar. Mix well to dissolve.

Continue to boil for 2-3 minutes over medium heat. Be careful not to let it get too hot and boil over!

Add the salt and the vanilla extract. Allow it to cool.

Pour into a clean glass bottle. Store in the refrigerator.
Notes
It can be stored for several months. This recipe yields two cups.