Karonde Ka Achar, oh, what a melody to the palate! A unique yet delicious pickle, humbly reigning in various parts of our vibrant country. A perfect sidekick to parathas, or for the daring ones, Bajre ka Rotla with a dollop of butter. Or on a crunchy mathri – the perfect tea-time treat!
We got many pickle recipes like Raw Mango Pickle and Hari Mirch Ka Achar here for your tastebuds.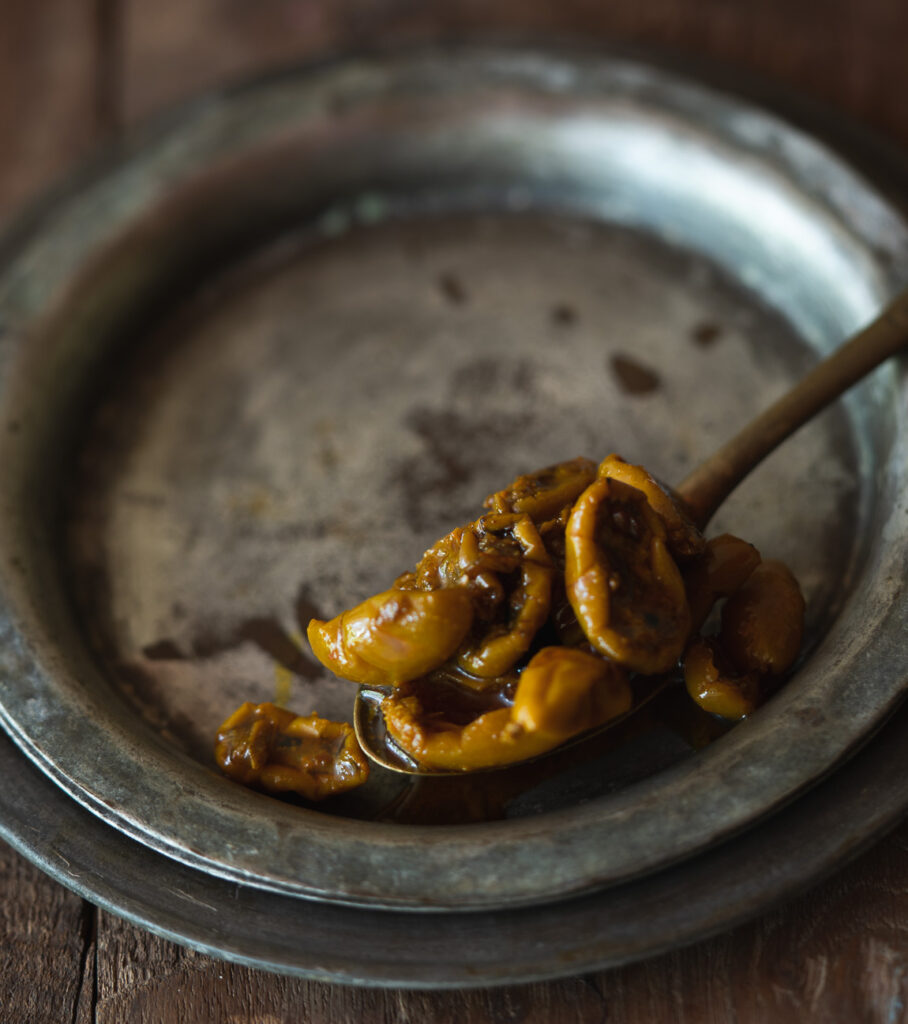 In the world of pickles, Karonde Ka Achar holds a place like none other. Pickles are relished in India, but this one's a hidden gem, a regional and lip-smacking sensation.
Now, what makes Karonde Ka Achar so special to me? It's more than just a pickle; it's a trip down memory lane, a warm hug from childhood, a love letter from grandma's kitchen.
Picture this: A cozy home filled with the aroma of spices, the sound of rain dancing on the tin roof, and a smiling grandma, busy in the kitchen. Trees full of Karonda outside, bearing the fruit of love and tradition. That's where our story begins.
I remember my mom and grandma, braving the rains, picking Karonda, their faces beaming with joy. They'd bring it in, a basket full of promises, and the kitchen would come alive. A ritual passed down through generations, a culinary dance that I was lucky to witness.
Grandma would clean the Karonda, and a whiteish liquid would ooze out, what we fondly called "Karonde ka doodh." Sticky and mischievous, it needed to be tamed. Slicing the Karonda into two, she'd rid them of their wild side and prepare them for the transformation.
The making of the pickle was a celebration, a symphony of flavors. Mustard oil, fenugreek, fennel, and other spices would join the party, embracing the Karonda, and adding depth and character. Hours would pass, stories would be told, and laughter would fill the air.
The result? A bite-sized pickle, tangy and tantalizing, a burst of flavor that took me to places. I'd grab 2-3 pieces, place them on a single slice of Mathri, and take a bite. A flavor explosion, a connection to my roots, a memory etched in my taste buds.
Karonde Ka Achar isn't just a recipe; it's heritage, it's culture, it's family, it's home. It's a tribute to the women who taught me to love food, respect ingredients, and cook with my heart.
And now, I pass it on to you.
words: Vishal Raichandani
emotions: Deepali
Print Recipe
Karonde ka Achar
Karonde Ka Achar is a unique yet delicious pickle popular in various parts of the country. It is a perfect sidekick to our main meals. It pairs well with our parathas or, if you're feeling up for it, a lovely Bajre ka Rotla with a dollop of freshly churned butter or perhaps on a mathri, making it the perfect tea-time accompaniment.
Ingredients
500

gram

karonde

30

gram

salt

split into 20 g & 10 g

60

gram

achar masala

ready-to-use pickle masala

100

gram

mustard oil
Instructions
Slit the karondas.

Sprinkle 10 g salt on top of them and rub nicely. Set aside for 3-4 hours. Adding salt enables the karonda to be de-seeded easily.

After 3-4 hours, remove the seeds and thoroughly wash them.

Spread the karonde pieces on a fine muslin cloth.

Place the karonde pieces with the muslin cloth in the strong sun to dry for 3-4 hours.

When the karondas are slightly dry (known as फरहरा in Hindi) move them inside from the sun. Do not dry the karonde completely in sun. It is important that they should be only partially dry.

In a wok, boil mustard oil.

When the oil is boiling, add remaining 20 g salt to split the oil (known as तेल को फाड़ना in Hindi) and turn off the gas.

Allow the oil to cool down completely.

Once the oil is completely cooled, add karonda pieces, and pickle masala. Mix vigorously.

Transfer to a large glass jar or मर्तबान/ बरनी with an air-tight seal. Close the seal.

Place the ready pickle in strong sunlight for 4-5 days. You can place the jar every day at the time of strong sun and remove them indoors at night time.

After few days, karonde ka achar (karonda achar) is ready to eat. Enjoy with mathris, poori or bajre ka rotla or just like that.
Notes
There are different ways to prepare karondas for pickling and it all depends on your personal choice.
Adding salt before washing enables the karonda to be de-seeded easily.
Do not dry the karonde completely in sun. It is important that they should be only partially dry.
तेल को फाड़ना means to clean the oil so that any form of impurity or rawness of the oil doesn't spoil the pickle later.