DIY Cake Flour is homemade easily using all purpose flour and corn starch. No need to use store bought anymore. Read more to know how!
I decided to do this post simply because I got few inquiries about how to make one. I am no expert but this is so simple. Make your own cake flour at home!
Initially when I started out, special name for a flour was always a deterrent as in India you don't get varied flours in regular stores and in Gourmet stores they are way too expensive to justify using them.
So when after some googling I realised that making Cake Flour at home is like a 'Piece of Cake', pun intended, I was thrilled and have been making my own for a while.
I am sharing the recipe here which to my knowledge is uniform across all blogs/ web.
You can make it simpler by making a big batch – Amanda explains it here.
4 Tbsp ~ 1/4 Cup
Make 2 Cups of cake flour by removing 1/4 Cup flour and replacing it with 1/4 Cup Corn Starch.
Simple!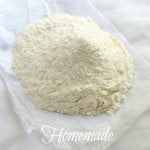 Print
DIY Cake Flour | Homemade
Easy guide to DIY Cake Flour at home
Materials
1

cup

all puporse flour

2

tbsp

cornstarch
Instructions
Measure 1 cup of flour. Remove 2 tbsp from it.

Replace 2 tbsp flour with 2 tbsp cornstarch.

Sift together. Store in air-tight container.