Dried Rose Cake is a vanilla based layered cake which has been simply decorated with rose flavored rose cream. Topped with dried rose leaves and some crushed pistachios.
I have become a lazy bum. That's the only excuse I have for neglecting the blog. My end of the year resolution should be to find the mojo.
And I need to start using tripod again. Last one year I have started relying more on quick photos rather than set-up. I need to go back to it too.
Beginning of the month saw heavy rains in Pune, leading to all dams overflowing and flood like situation for 2-3 days. And in those 2-3 days,
we found a reason to celebrate with my father-in-law's birthday.
Kids got an unplanned holiday from city administration due to red alert and we celebrated the holiday, rains and life with a Dried Rose Cake.
Rose cake was not a planned cake. My initial plan was to make Rasmalai Cake as I have come across it so much in the baker-world but never got an opportunity to try it. But due to the rains, we were cut off from surrounding areas and I didn't get any ready rasmalai for the cake.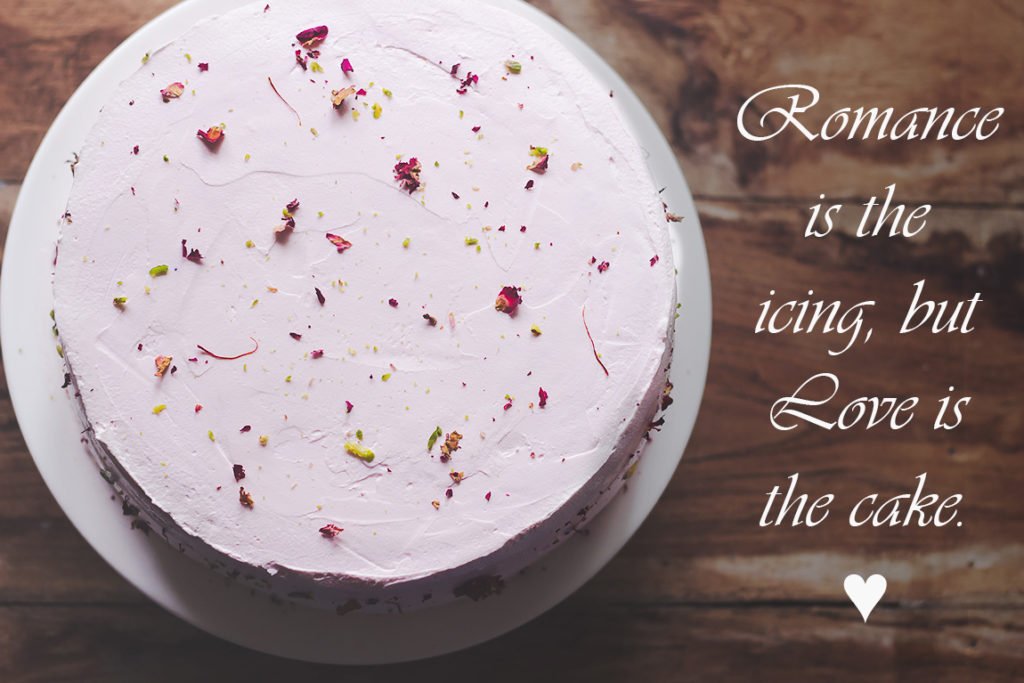 I pulled out what all I had at hand and voila we have a simple cake using dried rose leaves. I used rose syrup for soaking and added hint of pink color to cream.
The cake hit all the right notes – moist, simple, oldies friendly, and creamy. The flavour of rose is so subtle and fragrant. Perfect for a party.
Print Recipe
Dried Rose Cake
Dried Rose Cake is a vanilla based layered cake which has been simply decorated with rose flavored rose cream. Topped with dried rose leaves and some crushed pistachios.
Servings:
8
inch layered cake
Ingredients
1

cup

all purpose flour

½

tsp

baking powder

¼

tsp

baking soda

a pinch

salt

½

cup

sugar

granulated

¼

cup

olive oil

or melted butter

⅓

cup

water

1

tsp

vanilla extract

2

tbsp

yogurt

homemade curd or buttermilk

2

tsp

white vinegar
Instructions
Preheat oven to

180

°C

. Grease and flour 8 or 9-inch round pan.

Sieve together flour, baking powder and salt, set aside. In a bowl, add sugar, oil and water; mix them well.

In a large bowl, mix together curd, vinegar and baking soda. Allow it to bubble up. Now add sugar mix to this bubbly mixture. Then slowly add sifted flour and fold in gently. Bake for 25-30 minutes or or till the tooth pick inserted near the centre comes out clean. Cool the cake completely in the pan before de-moulding. Freeze the layer till further use. Bake 2 more layers.

Assemble and decorate as per your choice.
Notes
Infuse the sugar syrup with 1 cup dried rose leaves.
I have been using another white cake recipe for 2 years and like it very much but sometimes for tiered cake, it is not as sturdy as I would like it to be. So trying out a new recipe. I will confirm my final verdict on it after soaking it liberally next time. I like my cakes to be super moist with melt in the mouth texture. So I will make one more attempt with the max soaking a cake can take and will then decide if it's a keeper or no. Nevertheless the recipe is good and gave a great cake.
Sugar Syrup
Easy Sugar Syrup recipe to soak cakes & bakes
Ingredients
⅓

cup

sugar

granulated

1

cup

water
Instructions
Boil water & sugar together. Once it boils, lower the flame & allow it to heat for another 1 minute. Remove from heat & cool completely. It can be made in advance & stored in refrigerator.

Use ⅓ cup of syrup to soak one layer of cake. If you are soaking White Cake then reduce the syrup per layer i.e. ¼ cup sugar in ¾ cup water. And soak each layer in ¼ cup syrup. With ⅓ cup syrup, I have found the cake to get over soaked.
for infusing flavour
If you are infusing flavor like rose petals, then boil petals once sugar is dissolved for 5-10 minutes. Cool & strain. Continue to use for soaking and assembling.
Notes
The more you soak the layers before filling, the more moist your cake will be.
You can infuse this syrup with flavours of your choice. I have used it with dried rose cake by infusing it with 1 cup dried rose petals. 
How to Assemble a Cake
Easy steps on How to Assemble a Cake. Follow them to create a layered cake in a jiffy.
Yield:
6
inch layered cake
Equipment
piping bag, nozzles & levelling knife

for decorating and finishing

parchment paper or strips
Materials
sugar syrup or chocolate syrup

for soaking

whipped cream or chocolate ganache or buttercream

to fill & frost

fruits, sprinkles, chocolate chips, etc

for topping or filling
Instructions
Move the frozen layers to refrigerator few hours before assembling. Place the first layer on a platter or cake stand.

Make some holes into the bottom layer using a form. Soak the bottom layer in sugar syrup. Then lightly spread the filling of your choice like whipped cream or butter cream or chocolate ganache over it. Place the second layer on top of the bottom layer & repeat the process of soaking & spreading filling. Finally place the top layer & again soak it. Lightly spread the filling on top & sides of the cake making a crumb coat. Refrigerate the cake for 1 hour.

Top it generously with chocolate ganache or any glaze or whipped cream or butter cream. Pipe design as you would like. Refrigerate the cake for at least 2 hours or overnight for flavours to set in. Serve chilled.
Notes
You can whip the ganache before spreading as filling.
The consistency of ganache for topping and filling is different. For filling, you need thick consistency (which you get by leaving the ganache at room temperature for few hours) and for pouring as topping, you need the ganache to be pouring consistency. You can re-heat/ warm up the ganache to adjust the consistency.
I use soy-based ready-to-whip cream which is available in market. Transfer a small portion of cream in a large bowl or your stand mixer and beat till stiff peaks are achieved. Fill and frost as per your choice.