Peach and Plum Upside Down Cake is a super tasty and must-make cake. The stone fruits complement the flavours of cake very well.
I have always, always wanted to bake upside down cake using plums and peaches. Unfortunately we do not get fresh peaches and plums in Pune and every time I visit mom, I couldn't manage with little ones around in the past. But this year I made it possible on the occasion of my daughter's fourth birthday. She wanted a zebra cake so I decided to bake 2 cakes, one her request which all the kiddos can enjoy and the other one for us oldies ;)
I was a bit scared since it was my first attempt at an upside-down cake but it turned out great. For the fruits, I was fixed on using peaches and plums. To pair with them I used my go-to white cake recipe. For making the caramelized fruit topping, I used the instructions as well as tips shared here.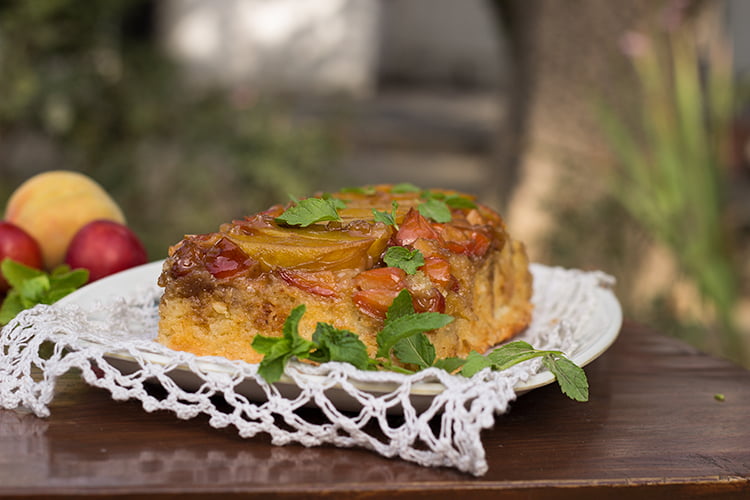 It baked beautifully and didn't even trouble me while de-molding. I was worried about the cake sticking completely to the pan, about fruits not really working out well or family members not liking it. Well, I was worried about everything.
All my apprehensions were unfounded, the cake was a magic. It was sticky with decadent topping, a heavenly mouthful. My aunt loved it so much, she took repeat helpings (psstt… who's counting?). She later asked me to share the recipe as well. My mother also liked the tanginess of fruits a lot. I love fruits in my bake so for me it was a winner hands down. I served it with ice-cream, you can serve it slightly warm or with whipped cream. The sweetness and juice of peaches work very well with tartness of plums.
Print Recipe
Peach and Plum Upside Down Cake
Peach and Plum Upside Down Cake is a super tasty and must-make cake. The stone fruits complement the flavours of cake very well.
Ingredients
3

tbsp

unsalted butter

softened)

¼

cup

brown sugar

1½

cup

fresh peaches

washed, dried & sliced

1½

cup

fresh plums

washed, dried & sliced

3

tbsp

mint leaves

optional

1

cup

all purpose flour

½

cup

sugar

granulated

¾

tsp

baking powder

¼

tsp

baking soda

¼

cup

apple sauce

unsweetened

½

cup

yogurt

homemade curd or buttermilk

2

tbsp

olive oil

½

tbsp

apple cider vinegar

1

tsp

vanilla extract

a pinch

salt
Instructions
Preheat oven to

170

°C

. Place the loaf pan or skillet on the burner over low heat and add butter. Once the butter melts, add brown sugar and stir it gently. When the brown sugar has melted, turn off the heat, but leave the pan on the stove.

In a large bowl, combine together flour, sugar, baking powder, salt and baking soda. In a separate small bowl, mix curd or buttermilk, oil, vinegar, vanilla extract and apple sauce. Stir the wet ingredients into the dry ingredients bowl until just mixed. I added another teaspoon of curd to adjust the consistency.

Arrange the sliced fruit in the pan, being sure to crowd the pan as much as possible. The fruit will shrink when cooked. If you are using mint or any other herb, then sprinkle them on top of the fruit layer.

Gently top the fruit layer with cake batter, so as not to disturb the layer. Evenly distribute the batter and smoothen out with a spatula. Bake for 30-40 minutes or till the tooth pick inserted near the centre comes out clean.

Place the cake on a cooling rack. Let the cake settle for a minute or two until any fruit that has leaked up the sides stop bubbling. Do not let the cake cool completely or you will not be able to get it out of the pan. Run a knife around the edges of the pan, place a plate on top of the pan and, using hot pads, carefully flip the cake over. Gently remove the pan. Be careful the fruit and glaze will be still quite hot and will burn.

If any pieces of fruit is stuck on the pan, gently scrape them and replace on the cake. Let the cake cool. Serve at room temperature or slightly warm. You can serve with whipped cream or ice-cream.
Notes
Cake layer from my go-to white cake.
Upside down layer adapted from here.
For the fruit layer, you can use any fruit of your choice, most berries can be used whole, stone fruits need to halved and pitted or cut into wedges. If using frozen fruit, then do not defrost.
You can use any variety of fruit and make successful upside down cake like blueberries, nectarines, fresh cherries, any berry, apples, pears, bananas, mangoes, apricots, figs, cranberries, or strawberries. The classic recipe uses pineapple and cherries. Plums can be used like I did, if they are not too ripe and juicy. Finely chopped herbs like mint, basil, lemon thyme pair well with many fruits. You can add spices like all spice powder and cinnamon in the winter season.
You can use fresh or frozen fruit. The only thing you need to be careful about is that fruit should not be stored in juice or sugar syrup. You want unsweetened, individual pieces, and be sure that they are still frozen when adding them to the topping before baking as they are easier to handle that way.
Roughly 2-3 cups of fruits is required depending on the choice of fruit. A cup of blueberries will be much different than a cup of sliced apples. We want a single layer of fruit covering the bottom of the pan. It is best to closely place the fruit as it will shrink upon baking.
You can use any fresh herb of your choice too.
This recipe for upside-down cake uses less sugar than the classic recipe, which uses upto 1 cup of brown sugar and a whole stick of butter. But using less sugar and butter bring out the flavour of fruit more.
The cake needs to be removed from the pan shortly after it has been taken from the oven or the fruit will stick. This can be a little tricky as the fruit and brown sugar topping is still quite hot and can burn. Use hot pads or kitchen muffs and carefully remove it.
To store, wrap carefully in plastic wrap or store in an airtight container. Will keep for several days.