Pineapple Pudding is a rich dessert made using a pineapple and a secret ingredient which is hard for you to guess! It is truly delicious and refreshing in small size servings.
Try more refreshing chilled desserts like chawal ki kheer, mango pudding, rabri.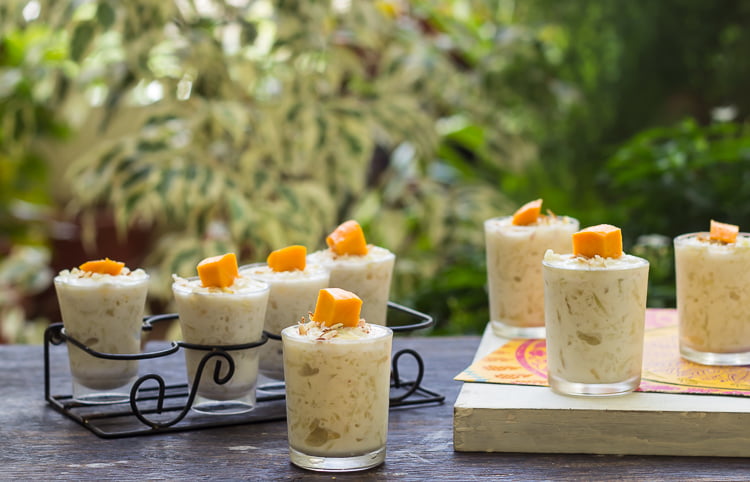 'Pudding' evokes expectation & taste of a cake topped with whipped cream and some fruits thrown in. Even I imagined it to be the same when my mom told me that she is making it for me.
But I couldn't be more wrong.
It so b* hot in Pune that I told V to install an AC asap. Yes I am the same one who always claimed that Pune rarely needs air-conditioners but this year I take back my sentiment. We need AC and everything cool around us.
In this weather cool food, cool drinks and lots of window breeze is keeping us sane.
It doesn't resemble pudding in structure but every bit as heavenly. Since my mom calls it pudding, I will continue calling it too. :)
Prepare in advance and serve chilled to your guests
It is no wonder that I am falling back on recipes like chilled pudding to entertain as well as eat myself at home. I have found another sweet monster like me in Priya and we both want to diet but end up eating fried, sweet and all sorts of guilty food in name of potluck and kids ;)
It is a perfect make-ahead dessert ready to be served for a party. It is very simple to put together with some basic ingredients at home.
And it has a special ingredient which I couldn't believe. Can you guess? No? I know you won't be able to either. It has bottle gourd in it.
Yes. You read right – bottle gourd. It is very difficult to decipher the taste and you can easily feed the gourd-haters some gourd on the sly. I would love being one-up here.
I made it for my in-laws and they relished it too including my toddler, who along with her dad, enjoys my cooking most.