Whole Wheat Basil Focaccia is a delicious side of bread for the soups and sauces. A crusty and wholesome bread for people looking for healthier version to all purpose flour breads.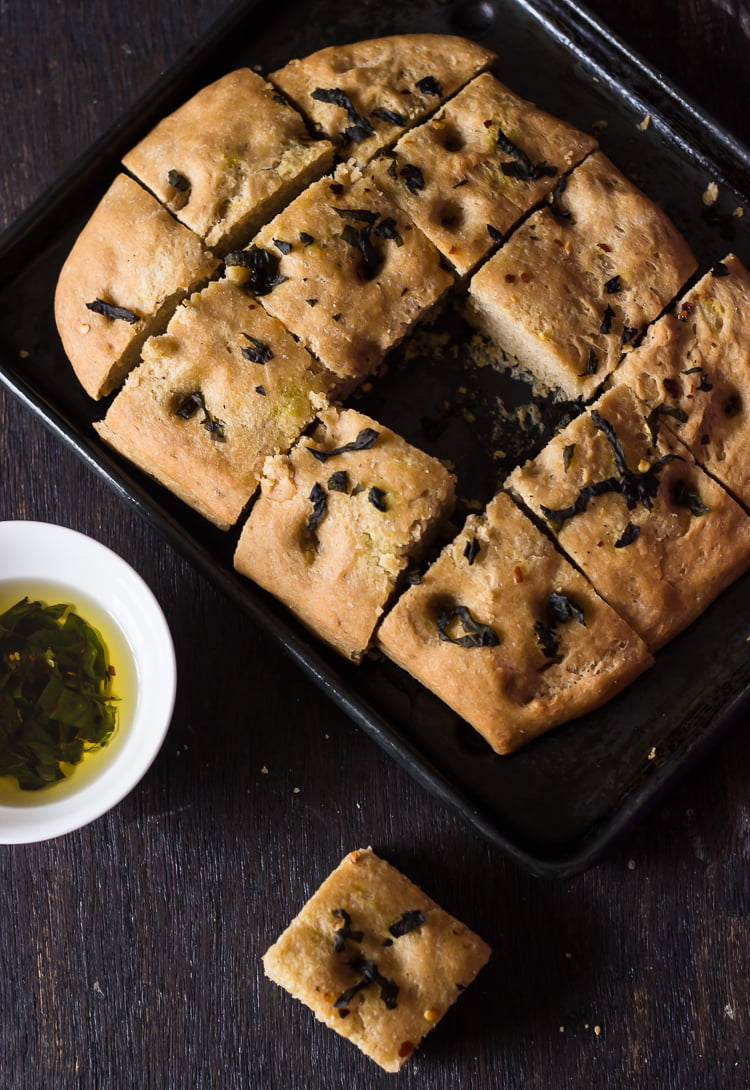 Recipes created when there was an overload of basil leaves at my place, is still not over. Next in series is this basil focaccia which I adapted from Dassana.
The recipe is simple and uses whole wheat flour and the result was quite fantastic. Writing this post today is making me crave this dish all over again and I am surely going to make it this weekend.
Like in all my yeast recipes, I use instant yeast but you can use active dry yeast. I taught garlic sticks to a bunch of friends in society and almost all of them re-created that recipe using active dry yeast. Seeing them use the regular shelf yeast, even I am now tempted to once more try my hands and skip the imported version.
The herb oil made for the recipe can be easily used as a dip with the bread.
Print Recipe
Whole Wheat Basil Focaccia
An easy and nourishing whole wheat basil focaccia. A crowd pleaser and taste worthy.
Ingredients
for the focaccia dough
4

cup

whole wheat flour

2

cup

warm water

2½-3

tbsp

olive oil

1

tsp

sugar

1½

tsp

instant yeast

1½

tsp

salt
for the herb oil
2

tbsp

fresh basil

chopped

4-5

tbsp

olive oil

½

tsp

chili flakes
Instructions
for the herb oil:
Warm the olive oil, and add chopped basil leaves and chilli flakes. Allow them to steep in warm oil for at least 30 minutes or even overnight.
for the focaccia dough:
In a small bowl, mix warm and sugar together. Add yeast and allow it to activate. Let is rest for 10 minutes or till the mixture becomes frothy and bubbly.

In the meanwhile place 2 cups of flour, salt and oil in a large bowl. Mix using a wooden spoon. Now add half of the yeast solution and mix well.

Add another 1 cup of flour and remaining yeast solution and continue to mix it well. Add the last cup of flour and stir till the dough starts coming together.

Turn over the bowl and drop the dough on a lightly oiled work surface and knead it till the dough is smooth, elastic, soft and slightly sticky.

Place the dough in a well oiled bowl and cover with a kitchen towel. Allow it rise/ leaven for 90 minutes till it doubles.

Place the risen dough on work surface and punch it down to flatten. Divide the dough into two portions for making 2 large focaccia loaves.

Place the one portion of flattened dough onto a greased rectangular pan. If need be, then flatten it a bit more. Now pour 1/4th of prepared herb oil on the dough. Using your finger tips, dimple or indent the dough about 2 inches apart. Cover with cling film or kitchen towel to allow it to rise a second time for 30-40 minutes.

10 minutes before baking time, pre-heat the oven to

200

°C

. Once the dough is ready, pour another 1/4th portion of herb oil onto the risen dough. You may need to lightly dimple again. Sprinkle coarse salt if you like.

Bake for 20-20 minutes or till the bread turns golden brown. Remove from pan and allow to cool slightly. Serve warm with the same herb oil if you like.

Repeat the same process for second loaf.
Notes
You can use any herb of your choice.
The longer you steep the herbs in oil, the stronger and richer the flavour would be.