I'd much rather eat pasta and drink wine than be a size 0. ~ Sophia Loren
How does it look?
Pasta is a starch-rich food made using flour, eggs, and water. It is shaped differently and then boiled. Spaghetti, macaroni, fusilli, penne, and noodles are some common shapes of pasta.
The quality of pasta can be gauged by its appearance. Dried pasta should be translucent, creamy yellow color, and should not have a tint of gray. It should not show signs of any air bubbles or gray spots when held up against the light.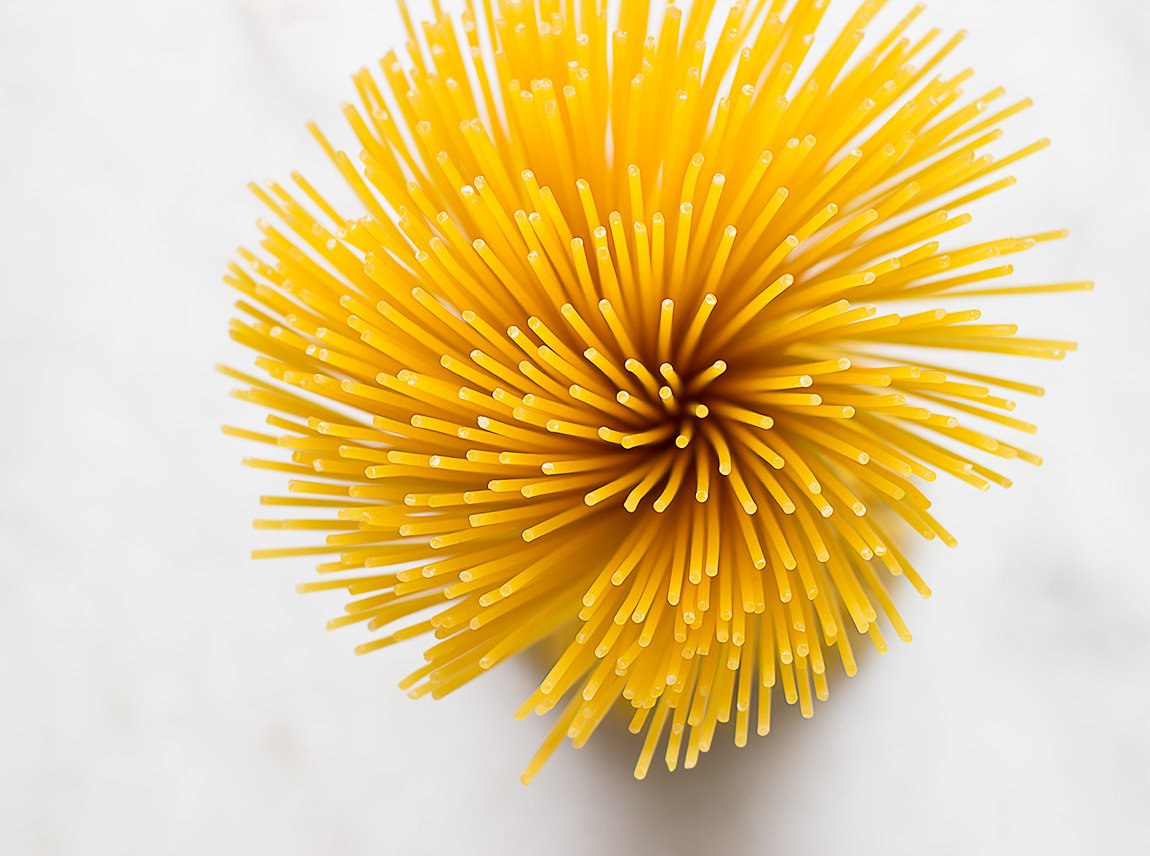 Life is a combination of magic and pasta. ~ Federico Fellini
How to cook pasta?
Dried pasta can be cooked in about 10 mins. It should not be chalky and hard, nor should it be a slimy mush. The simple cooking tip lies in timing. It is best to test it and stop cooking when it reaches 'al dente' – Italian for 'to the tooth' which literally means that you should use your teeth to chew it.
How much water is needed to cook pasta?
Ideally, you require 80-100 grams of dried pasta per individual and approximately 500ml – 1litre water per 100g (i.e. per person ½litre water)
How to season pasta?
The best way to season pasta is by adding 1 tsp salt or more as per preference in the cooking water while boiling pasta. Add in sauce, oil, or butter as per choice over the cooked and drained pasta. Further, add finely grated hard cheese like parmesan or pecorino.
Spaghetti can be eaten most successfully if you inhale it like a vacuum cleaner. ~ Sophia Loren
How to choose the right pasta for the sauce?
In general use larger pasta shapes which have hollows and sauce-hugging curves for thicker and rich sauces. The thinner pasta with delicate strands like spaghetti is used with light oil-based or cream sauces. Some pasta shapes are regional and paired with a sauce as per tradition.
for Baked Pasta Dishes
For Pasta al Forno, or baked pasta choose a shortcut—like Penne, Shells, or Rigatoni with hollow middles, twists, or scoop-like shapes. These shapes take in all the richness of the baked pasta: sauces, finely chopped ingredients, and melting cheeses.
Pasta Shapes recommended are Cavatappi, Elbows, Gemelli, Orzo, Penne Rigate, Penne Ziti, Radiatorre, Rigatoni, Shellbows, Shells, Tortiglioni.
for Butter or Oil Sauces
Almost all pasta cuts can be dressed simply with butter or oil and some fresh herbs. However lighter, simpler sauces go very well with the thin and delicate long cuts, like Capellini and Thin Spaghetti as they do not overwhelm their shape or flavor.
Pasta Shapes recommended are Bucatini, Capellini, Farfalle, Linguine, Penne Rigate, Penne Ziti, Shells, Spaghetti alla Chitarra, Thin Spaghetti.
for Cream or Cheese Sauces
For creamy, cheesy, and hearty sauces choose sturdy, sauce-absorbing noodles that can complement their richness. Choose pasta that is curvy & can hug the sauce nicely, hollows, and scoopable shapes to allow the full potential of creamy, cheesy sauces.
Pasta Shapes recommended are Cavatappi, Casarecce, Elbows, Gemelli, Farfalle, Fettuccine, Linguine, Mezzi Paccheri, Orecchiette, Penne Rigate, Penne Ziti, Radiatorre, Shellbows, Shells, Spirali.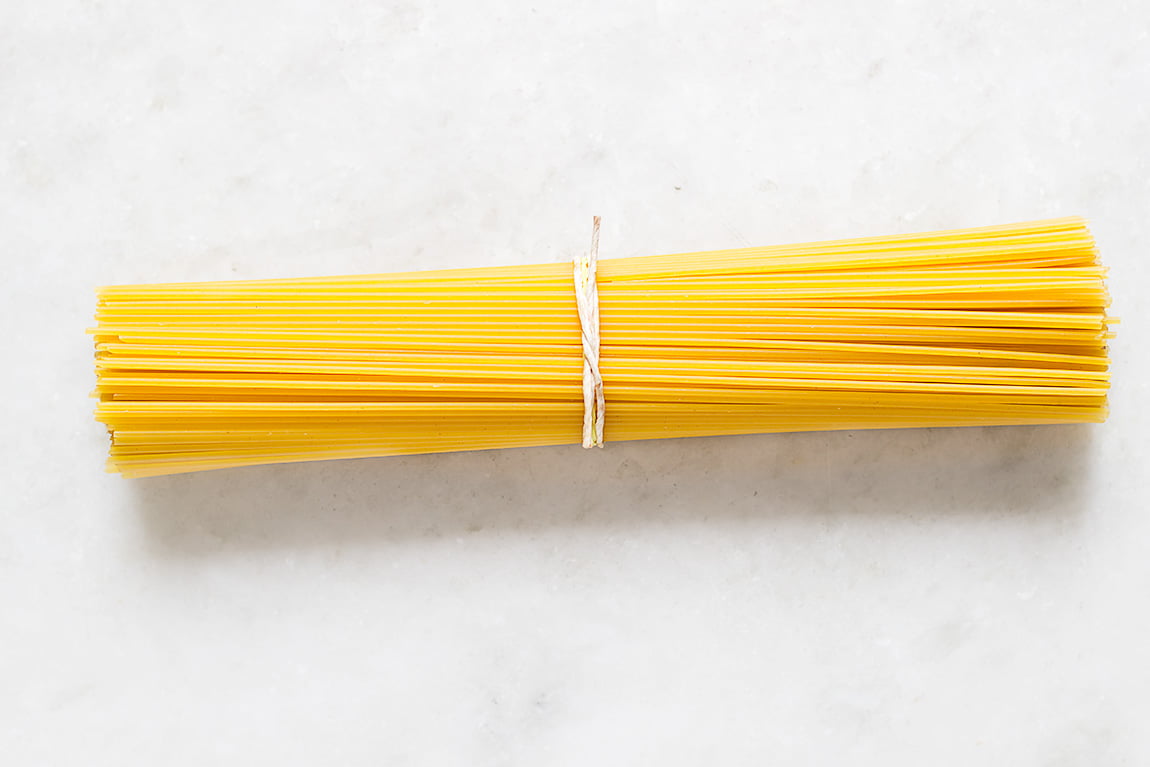 Without noodles there'd be a chaos and darkness.
for Pasta Salads
For a cold picnic pasta choose what best compliments your ingredients. Pastina, like Orzo and Acini di Pepe, when combined with small bites and a zesty vinaigrette makes a great salad. Or creamy pasta salads pair well with Farfalle frills, Fusilli, or the concave-shaped Orecchiette.
Pasta Shapes recommended are Acini di Pepe, Cavatappi, Elbows, Farfalle, Fusilli, Orecchiette, Orzo, Penne Rigate, Penne Ziti, Shells.
for Soups
Pasta in broth-based soups is hearty and filling for bringing comfort in cold weather. Soup cuts, or pastina, like Orzo, Acini di Pepe and Farfalloni work very well with classics like Minestrone and Pasta Fagioli.
Pasta Shapes recommended are Acini di Pepe, Ditalini Rigate, Farfalloni, Orzo, Stelline.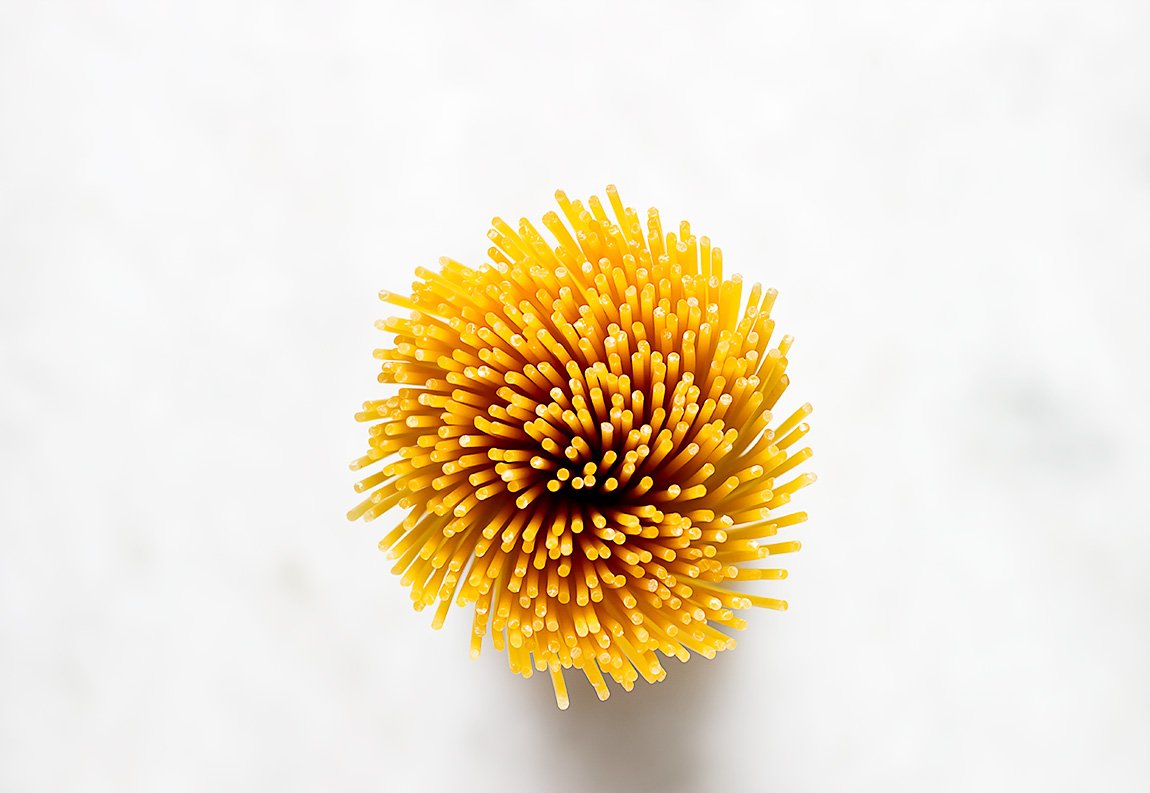 Everything you see I owe to spaghetti. ~ Sophia Loren
for Light Tomato Sauces
A fresh light tomato sauce has more water than olive oil and is full of ripe tomato fresh from the garden flavor – synonymous with delicate & fresh flavor. The tomato flavor is subtle and suitable for delicate cuts of pasta. Long, thin pasta, such as Capellini and Thin Spaghetti goes very well with light sauces.
Pasta Shapes recommended are Capellini, Cut Ziti, Penne Ziti, Spaghetti, Spaghettini.
for Rich Tomato Sauces
Rich tomato sauces are simmered slowly & hence more concentrated with bold and robust flavor. They are thick and oil-rich, essentially to coat the pasta. Tubular shapes and shapes that will quickly absorb the chunkier sauces are preferred.
Pasta Shapes recommended are Bucatini, Cavatappi, Elbows, Gemelli, Fusilli, Fusilli col Buco, Linguine, Mezzi Paccheri, Mezzi Rigatoni, Penne Rigate, Penne Ziti, Radiatorre, Rigatoni, Shellbows, Shells, Spaghetti, Spaghetti alla Chitarra, Tortiglioni.
How much cheese?
Lasagna pairs very well with cheese but overall go easy on cheese with most of your pasta. Parmigiano-Reggiano pairs very well with most sauces and is the preferred choice for most Italians.
Pasta is the main dish
Pasta shouldn't be paired with a side like a salad. Pasta is the main meal & is usually served alone. It is not considered an appetizer but is the centerpiece of a meal.
Don't cut or break the pasta
Do not break or cut pasta to fit it into the pan. Use a suitably tall vessel and water to cook pasta. You can gently swirl the pasts using a ladle or fork to submerge them into the boiling water.
While eating, do not cut the pasta with a spoon or fork. Always twirl it around your fork and bit into it.
No spoons twirling
Spoons are used to pour sauce, and mix the pasta but never to eat! Always use only a fork to eat the pasta. Twirl the pasta gently into the tines of a fork and lift it to eat.
Why eat pasta
It is a part of the basic food group, including vegetables and fruits. It is a source of good energy and fiber when made from whole grains. It's affordable, versatile, easy to make, varied with a lot of shapes, and low in fat & salt.
Shelf life of pasta
Dry Pasta
Dry pasta does not expire but it loses its quality over a period of time. There is no need to refrigerate or freeze opened pasta. It says well in airtight storage in a dry and clean pantry.
Fresh Pasta
Fresh pasta should be consumed within 2 days when stored in the refrigerator or can be frozen for up to 2 months.
Cooked Pasta
Cooked pasta can be refrigerated for 5-7 days or frozen for up to 2 months.
How to store pasta
Store dry pasta in a cool, dark place to prolong its shelf-life in an air-tight container for best results.
Amazing Facts:
Pasta was first eaten in China as early as 5,000 BC
Third U.S. President Thomas Jefferson brought pasta to America in 1789
Over 600 shapes of pasta are known to exist worldwide
Spaghetti is the most common popular pasta of Americans