Strawberry Shortcake Scones with Pure Vanilla Glaze are perfect for the Strawberry Shortcake Day. They are made with 100% whole wheat flour and can be enjoyed as snack or for breakfast.
Other breakfast options are muffins, zucchini bread.
I made these long ago when the strawberry season was at its peak but never got around to posting it. :) Recently I was cleaning up my data & then realized that I totally forgot to blog about them. :)
Then I thought why not schedule for the Strawberry Shortcake Day on 14th June!
Since January this year, I've been making recipes with smaller & simpler helping which are sweet & fattening but moderately so. I am not making them TOO healthy, sugar-free, etc but I'm trying to cut the portion size so that we indulge. But, only a little!
So I chose to make shortcake with a twist. I made some strawberry scones as they are similar to a shortcake base!
I made a tried & tasted recipe from Smitten Kitchen with some few changes of my own. I added basil leaves. Did I tell you they are my new-found love.
I halved the recipe, substituted flour with whole wheat flour & used vanilla glaze for the extra zing and to mimic a shortcake whipped cream. :)
For sometime, I've been meaning to start using The Vanilla Bean. Finally I took the plunge here. I had no idea what the glaze with real vanilla seeds should look like and I am not sure if the seeds should be so clearly visible in a glaze.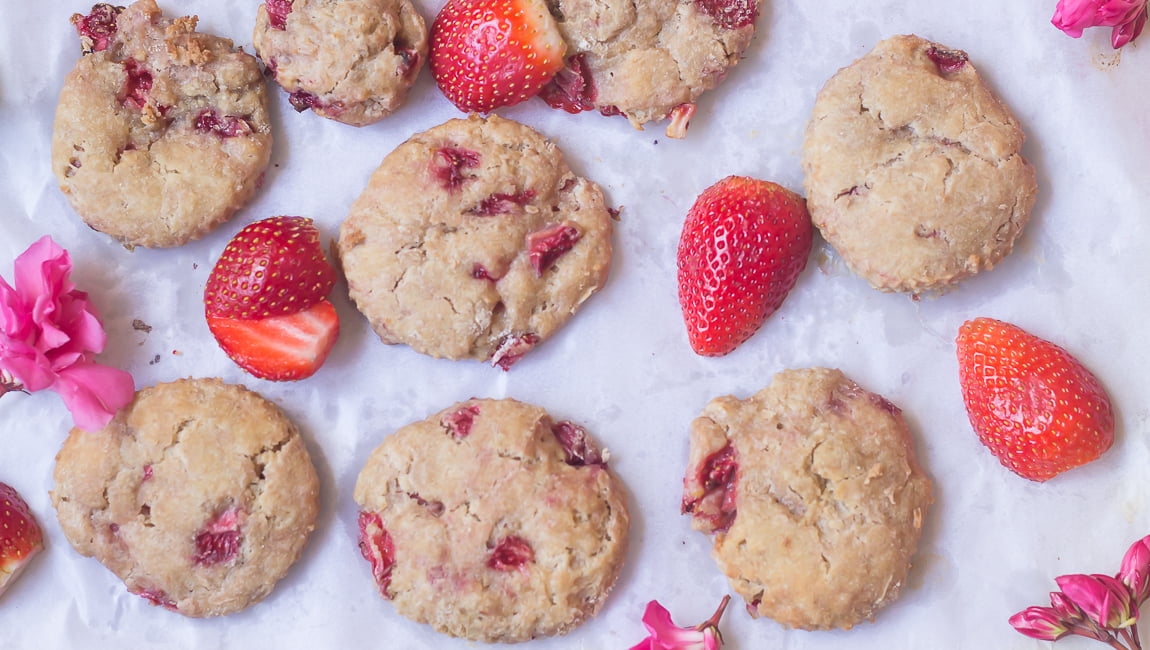 But what I do know is that we loved it! The taste was real vanilla & just perfect to go with the scones.
Overall I think this was a perfect sweet-after-dinner nights. Just pop one or two with some fresh strawberries, topped with glaze.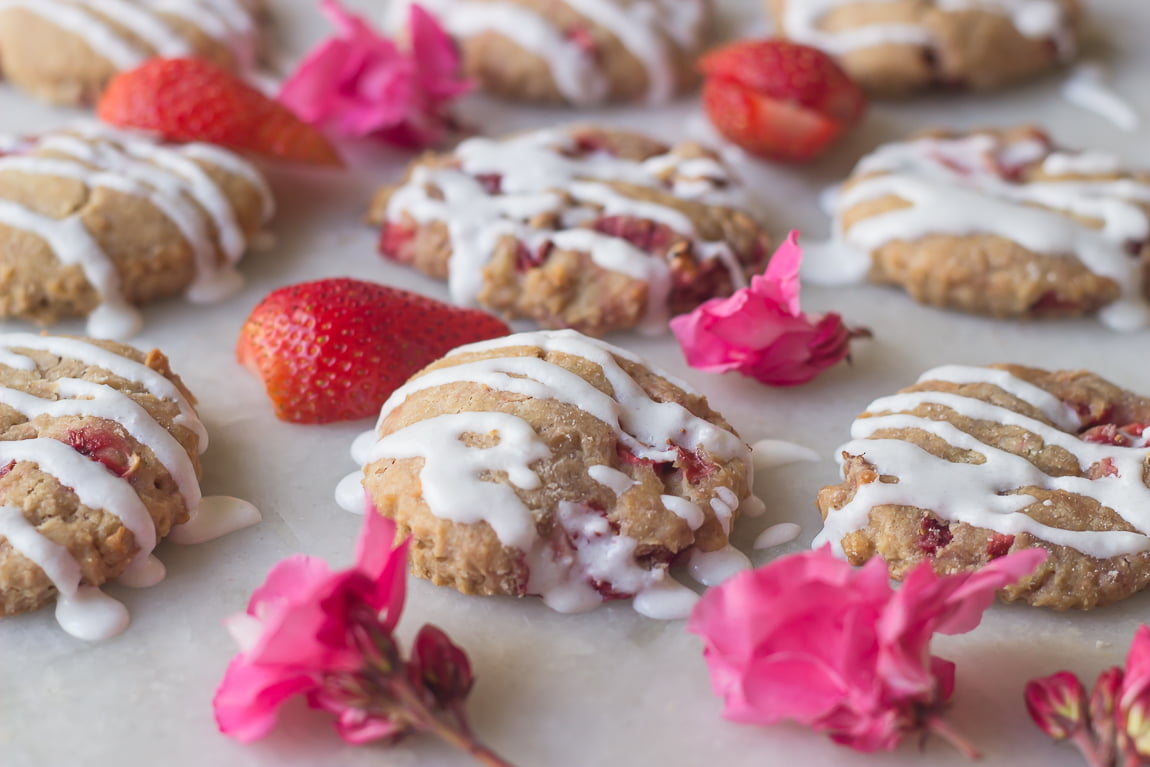 I would surely like to try these with some more fresh berries of season – may be mulberries, raspberries, blueberries! So many options, so many possibilities!
Print Recipe
Strawberry Shortcake Scones with Vanilla Glaze
Strawberry Shortcake Scones with Pure Vanilla Glaze are perfect for the Strawberry Shortcake Day. They are made with 100% whole wheat flour and can be enjoyed as snack or for breakfast.
Ingredients
1

cup

whole wheat flour

½

tbsp

baking powder

1½

tbsp

sugar

granulated

3

tbsp

unsalted butter

chilled and cubed

½

cup

fresh strawberries

quartered

¼

tsp

salt

½

cup

heavy cream
for vanilla glaze
½

cup

confectioners

icing sugar

1

tbsp

milk

1

vanilla bean

split and scraped
Instructions
Pre-heat oven to

220

°C

. Line a baking sheet with baking paper. In a large bowl, whisk flour, baking powder, salt and sugar together. Add butter using a pastry blender, breaking it up until the mixture resembles a crumbly meal with tiny pea-sized bits of butter. Do not overwork the batter.

Gently stir in strawberries to coat them with dry ingredients. Add in the cream. You can use a rubber spatula to gently lift & turn ingredients over each other. When you have mixed it as best you can with a spatula, knead the dough once or twice only to get one mass. Do not worry about even mixing, it is important not to over-work the batter.

Generously flour the counter. With as few movements as possible, transfer the dough to the counter. Generously flour the top of the dough. Now using your hands or a rolling-pin, gently press or roll the dough out to a ¾" thickness.

Using a floured cookie cutter or the rim of a drinking glass, pressing straight down. Do not twist as you cut. Transfer the scones to the prepared baking sheet, leaving a couple of inches space between each. You can re-roll the scraps of the dough. The dough may feel slightly dry but it will bake wonderfully once the strawberries release their juices.

Bake the scones for 12-15 minutes, until bronzed at the edges & the strawberry juices are trickling out of the scones in places. Cool in the pan for a minute, and then transfer to a cooling rack.
for vanilla glaze
Split the bean & scrape seeds into the milk. Let it sit in a spouted container such as a pyrex cup for about an hour. Add confectioner's sugar gradually whisking, until you get desired consistency. Ensure it is not too runny or it won't dry white on cake and will run off too quickly.

Once the scones have cooled, pour over the scones.
Notes
The scones are best made and eaten fresh only. Due to some work, I had to refrigerate the dough for the night and it turned all mushy and unmanageable next day. So better make fresh only.