Pinwheel Cookies are fascinating to look at. Kids love these treats. Roll the chocolate and plain cookie dough together to make these cute cookies. You can use colored dough also to give the contrast.
I love Pinwheels. I have earlier shared my mom's Pinwheel Sandwich recipe which I just love. I also plan to share another of my mom's recipe – Pinwheel Kachori.
So my joy knew no bound when I came across this post of Pinwheel Cookies and they were eggless too! Perfect!
I lost little time and baked them for my sister along with Eggless Candied Ginger Biscotti & Eggless Checkerboard Cookies.
My kids loved them. My nieces loved them. I am most happy when my creations are eaten with enthusiasm by the younger generation.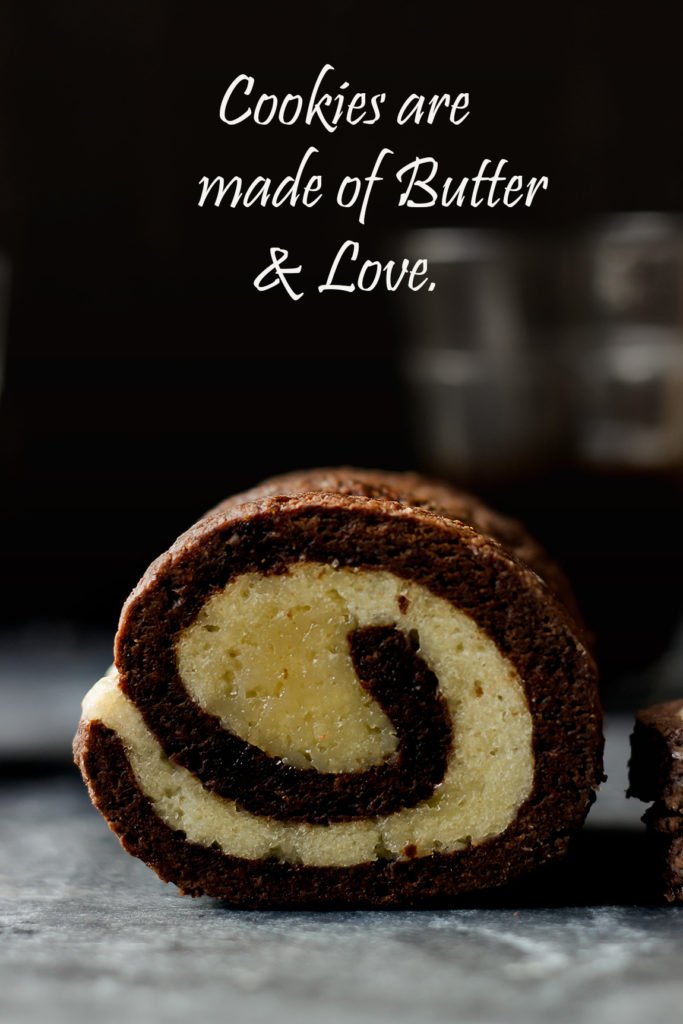 Today kids are much more fussy then we ever were. So these cookies would please the kids to no end. Go ahead and enjoy!
Print Recipe
Pinwheel Cookies
Fun shape cookies. Pinwheel. Easy to make. Kid friendly.
Ingredients
½

cup

unsalted butter

softened

¾

cup

sugar

powdered

1

tsp

vanilla extract

1¼

cup

all purpose flour

¼

tsp

salt

2

tbsp

milk

3

tbsp

cocoa powder

unsweetened
Instructions
In a large bowl, sieve all purpose flour and set aside. In another bowl, beat on high speed sugar and butter together, till they form a homogeneous paste. Now add vanilla extract & salt to the butter paste and beat for another couple of minutes.

To this mixture, add sieved flour and fold in. Add a tablespoon of milk and mix well to bring together all the ingredients. Divide this lump into two parts.

Transfer one portion to floured surface and knead it well, till the dough is smooth. You may add a little milk if needed. Gently roll or press using your hands this dough into a square shape, about 4 inches thick. Wrap it in cling film and refrigerate for 2 hours minimum or preferably overnight.

Take the other dough and add cocoa powder to it. Adding little milk (if needed) knead the dough such that cocoa powder is completely incorporated in it. Gently roll or press using your hands this dough into a square shape, about 4 inches thick. Wrap it in cling film and refrigerate for 2 hours minimum or preferably overnight.

Remove both the doughs from refrigerator, and gently roll it inside the cling wrap only to soften it. Using a rolling pin or your hands, stretch the dough to form a long rectangle of about ½ inch thick. Try doing this within the cling wrap only so it becomes easier to take out strips in next step. Repeat this step for the second dough. Using a ruler, straighten the edges and cut off extra dough.

Spread a fresh parchment paper and place vanilla rectangle on it. Brush milk on top of it. Gently lift chocolate rectangle and place on top of vanilla rectangle. Gently using a rolling pin, roll both dough together so that they stick to each other and don't separate when rolling them into a log. Milk will help in binding the two layers.

Roll the dough from the longer side toward you as tight as possible for firmer shaped rolls. You may need to use both your hands and proceed slowly. Pinch the seams to seal it. Turn over the roll so that the seam is facing down. You will be left with a long roll.

Cover this ready log gently in a cling wrap and refrigerate for 1 hour. Preheat the oven to

180

°C

.

RRemove the dough and carefully cut them into round cookies. Place on a cookie sheet, one inch apart and bake for 12-13 minutes. Cool on a rack and store in an airtight container.
Notes
Refrigerating for few hours is also fine but preferably dough should be refrigerated overnight for best result.
You may need to refrigerate the dough in between steps for easy working.